Ballots for Fair-Share Spending
Ballots for "advanced" Movable Money Voting show how it apportions funds among your top-ranked items. An integral graph shows your offers to each favorite as: votes (shown by the height of a column) times your cost per vote (shown by the width of the column).
It's designed to teach the ballot calculations of MMV. So it shows more than a voter needs to see. For example, you can change a project's "keep value." Setting it to zero "eliminates" or "suspends" that project and moves money and votes to lower choices.
The Excel versions have macros to sort proposals by rank, title or cost, and to allow unlimited undo and redo even after sorting. You can see the numbers change back and forth while you change your choices.
Project Ballot in XL spreadsheet version 1.6, July 2006
Project Ballot in XL macros version 1.4, July 2003
Project Ballot at Google version 1.5, July 2007
Project Ballot in Open Office version 1.5, July 2006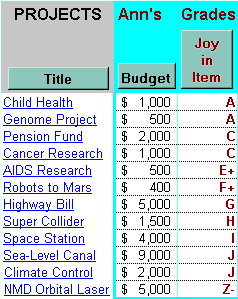 A picture of the ballot, narrowed for small screens.